Browsing articles tagged with " Star Wars"
When I saw the new poster art for Star Wars Identities: The Exhibition, my jaw hit the floor! This is some of the coolest poster art I've seen in a while. A great spin on the classics we love.
The exhibition itself takes place in Canada in late 2012, and you can find our more on their official website.
Share and Enjoy
When we think of carving pumpkins, our minds immediately imagine the nostalgic Halloween tradition that has been passed down from generation to generation and only happens once a year. Then we toss our molding fruit and wait for another season to begin again. But what if we could keep those carves forever? Alex Wer, otherwise known as The Pumpkin Geek, has devised a way to do just that. In fact, he has created an entire crafty business dubbed the "orange empire" from carving celebrities, famous characters (mostly from geek-genre shows and films), everyday people and more.
So… you carve pumpkins. How the heck did this all begin?
I've always loved carving, and a few years ago my wife asked me to carve her company logo for an open house.  Well, it was Oct 3rd and I knew the kins would die well before Halloween.  "Let me try the craft pumpkins from Michael's so it'll last" is what I said.  At the open house, the carve was a HUGE hit and I got thirty-five orders that night!
What inspired the name "Pumpkin Geek?"
It just came to me. At the open house, people were asking for my card, like I actually did this for a living. My wife went to her computer, created a business card with a pumpkin and asked me for a name. "The Pumpkin Geek" just came out of my mouth and history was made!
Tell us a little about the pumpkins themselves, the materials you use and the process involved in carving.
They are "craft" pumpkins from Michael's Craft Stores.  I call the material "polyfoam," but I kind of made that up. Basically I use a dremel (hand held drill with various bits) to do the carvings and shading.  It takes about four to five hours per carve, and I get pumpkin dust EVERYWHERE!
Alex featured on Good Day Sacramento.
Who was your favorite person or celebrity to carve?
Zachary Quinto was the first celebrity to request a carve at the Trek convention in 2009.  He came to meet me because her heard about someone doing a carve of him. He was very cool, hung out for about five minutes, gave me an autograph and complimented my work.  When I got home, I realized he posted my info on Twitter, and I got about 170 of his followers to follow me!  I've carved him about seven times for his fans, and have done some charity fund-raisers with him as well.
As far as favorite carves, Hugh Jackman Wolverine came out just like I wanted. Harry Potter and Captain Jack Sparrow are always a big hit.  The Storm Trooper was extremely challenging because he is all white (portions I usually cut-through), but the client was thrilled with that one.
Who would you love to carve and hand a pumpkin over to (dead or alive)?
Easy…Jeri Ryan!  She actually has her own carve, but it was done via mail.  She has been incredibly kind to me.  She not only follows me (yes, I Geek out every time she tweets me!), but she has run contests with me and actively supports what I do.  She's a total gem, and I'd like the opportunity to thank her in person.
The other person would be Oprah, for obviously reasons.  One mention from her and I could actually do this for a living!
When you tell people what you do, how do they react?
Either, "yeah, my eight-year-old carves pumpkins too," or when they see just how intricate my work is, "you have way too much time on your hands!" When I tell them I made almost $10,000 at my first Trek convention, they shut up about it. The other reaction is complete shock and awe over the work… I like those reactions better!
What's the best compliment you've ever received on your work?
A lot of people think I just project an image on the carve and it's a trick, so when they realize I actually hand carve them, their jaw hits the floor. The most meaningful carve, however, is one my site. See the tab named "Jeremy".  The carve and story are there for readers to understand why. It was a humbling encounter.
Have any other artisans inspired you throughout your career?
Since my craft isn't that mainstream, not really anyone I am trying to imitate.
If you could have any other profession in life, what would it be?
I'd say movie critic. I love movies and if I could get paid to see them, I'd be pretty thrilled!
Where did you grow up?
Ugghhh…STOCKTON, California!  A comedian once said it was "God's graffiti on California."  It was a nice town when I was there.
Favorite movie?
Impossible to answer.  I'd have to break it down into genres and decade. I love Sci-fi, drama, chick-flicks, rom-coms, action and musicals.  My favorite Christmas movie is the only one can easily answer: It's a Wonderful Life.  The movie shows how giving of yourself whole-heartedly will always be rewarded, especially when things are difficult. I've experienced that in my life personally.  When Jimmy Stewart and Donna Reed passed away, I cried.  That movie always touches me.
What superhero power do you wish you had?
So, that does not include the one I already have which I cannot name?  I'd say the ability to fly.  I've had various dreams where I was able to fly and I'd wake up pretty invigorated!
Everyone gets asked this question: What would you do if you had a time machine?
Well, first I'd go tell Eve, "DON'T EAT IT!" Then stop the invention of gum. After that, tell the Wachowski Brothers there does not need to be a sequel to The Matrix, and finally, I'd order the portabella mushrooms last night instead of the Lasagna. What a disappointment!
Where can you find more from Alex Wer?
Online
See more of Alex's work on his web site: ThePumpkinGeek.com
Upcoming Events
Sept 24, 2011: Sacramento Horror Convention
Oct 2011: Los Angeles Haunted Hayride
Nov 5th-6th, 2011: Comikaze Expo – LA's 1st annually Horror, Sc-Fi, Gaming & Comic Convention! Alex will be raffling off a custom carve of your choice at the convention.
Share and Enjoy
I recently stumbled across a gold mine when I found a website for Cubeecraft (pronounced "kyoob-ee") papercraft toys. You can download, print, cut out and assemble your own favorite geek characters… for FREE!
I've included a mere tiny collection of what can be found on Cubeecraft's website.
60's Batman

Star Wars Stormtrooper

Doctor Who – The 11th Doctor
Doctor Who Tardis
Doctor Who Dalek
Harry Potter
Star Trek – Spock
Wall-E
They don't just do geek characters either!
Aqua Teen Hunger Force – Frylock
Share and Enjoy
\
Where else can you go to get your Star Wars, Star Trek, Tolkien, Wheel of Time, Dr. Who, Steam Punk, Harry Potter, Superhero, Comic, Gaming and Pirate fix? (Whew!) Why Dragon*Con, of course.
What's donned as the largest sci-fi and fantasy convention in the world, or Disneyland on crack as I like to call it, is a four-day adventure into the deepest depths of Nerdvana. There's almost too much to see, from art to panels galore to celebs and much, much more. The good news is that there are shorter lines than some of the other Cons (ehem, you know I'm talking to you Comic-Con), and you actually have a chance of getting to see what you came for.
However, despite the geek overload, I went (primarily) for one thing: COSTUMES! Here are the multitudes of photos I took from the parade, costume contest and creations seen wandering the hallways.
Stay tuned for Dragon*Con video highlights, plus more photos of The Wheel of Time and True Blood!
PS. I was kidding about Comic-Con (not). We attended that too. In case you missed it, be sure to check out our special Comic-Con episode. 
Dragon*Con Parade
Dragon*Con Hallway Costumes
Dragon*Con Costume Contest
*Select photos of some of the contestants
Related articles
The Wheel of Time at Dragon*Con 2010: Book trailer, photos & eBook art
Share and Enjoy
Outta This World the show covers everything geek, so of course we were at the largest 'nerdvana' convention in the world: Comic-Con. We even made a song about it.
Share and Enjoy
Some folks collect stamps, others collect vintage action figures. I collect finger puppets. It's true. I have over 100 puppets ranging from dragons to faeries to the entire cast of Muppets. However, I seem to be missing an oh-so-popular set that would make my collection über complete: Star Wars. I never thought I'd write, "awe, Darth Vader is so cute!" You be the judge.
Share and Enjoy
The Japanese art of paper folding, otherwise known as Origami, has been the vehicle for creating incredibly intricate creatures since the 17th century. These days, however, this traditional art form has merged with pop culture to bring us our favorite fantasy and sci-fi characters, including Yoda, dragons, robots, and even spaceships. Take a peek.
You know who this feline looks like!
Share and Enjoy
For our first episode of Outta This World the show, we had the opportunity to interview Sarah Jo Marks, co-creator of The Vader Project, to discuss the ups, downs, and the process of putting together a pop culture-style art show.
After watching the video, check out a handful of some of The Vader Project helmets that are up for auction below!
To find out more about the auction or to purchase your collector's catalog with all 100 helmets illustrated in vibrant detail (I have one and it's incredible), visit the Freeman's website.
Share and Enjoy
Though we tend to think of "art" as a painting, a drawing or a sculpture, yet culinary experts and amateurs alike would leap to add their creative talents to the pot, and rightly so. After seeing a post on Great White Snark about "mind-blowing Star Wars cupcakes," I decided to do my own search for some of the best (and worst) Star Wars cake creations out there. Here's what I found.
Oh, and I haven't separated the good from the bad. I'll let you be the judge!
Of course I need to start with the mind-blowing cupcake creation mentioned above: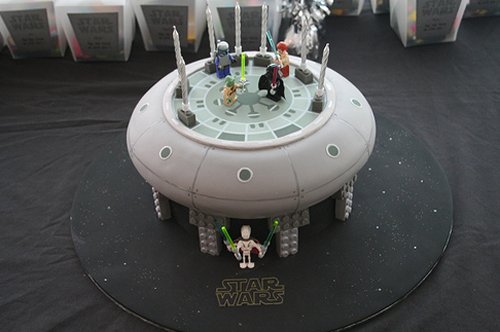 Check out the making of the Max Reebo cake above.
Share and Enjoy
The Fempire Strikes Back comes back to Hollywood (Music Box) on July 10, 2010. This is not a show to miss!
One of the hottest burlesque troupes in LA—The Devil's Playground—brought sexy and sci-fi together in one amazing show at the Music Box in Hollywood: Star Wars Burlesque!
Each custom-tailored performance was an experience for any fan of the original trilogy (not to mention hot women), with cast members dressed as characters from Chewbacca to Boba Fett to (you guessed it) slave Princess Leia.
Watch the highlights right here! Photos of many of the sci-fi clad vixens can be found below.
http://www.youtube.com/watch?v=ezrvxYmSGNs
Or check out these hot photos of the sci-fi clad vixens.
Olivia Bellafontaine as Princess Leia (photo by Josh Reiss)
| | |
| --- | --- |
| Charlotte LaBelle as Darth Vader (photo by Josh Reiss) | Audrey DeLuxe as Boba Fett (photo by Josh Reiss) |
| Lucy Fur as C-3PO & Sin Fisted as R2-D2 (photo by Josh Reiss) | Sin Fisted as R2-D2 (photo by Josh Reiss) |
| Scarlet O'Gasm as Jabba the Hutt (photo by Josh Reiss) | Scarlet O'Gasm as Jabba the Hutt (photo by Josh Reiss) |
| Daisy Meadows as Chewbacca (photo by Josh Reiss) | Courtney Cruz as the Stormtrooper (photo by Josh Reiss) |
References
Check out LA Weekly for complete coverage of the event.
Featured artists
Share and Enjoy
Subscribe to Outta this world
Categories
Archives