Browsing articles tagged with " Darth Vader"
For our first episode of Outta This World the show, we had the opportunity to interview Sarah Jo Marks, co-creator of The Vader Project, to discuss the ups, downs, and the process of putting together a pop culture-style art show.
After watching the video, check out a handful of some of The Vader Project helmets that are up for auction below!
To find out more about the auction or to purchase your collector's catalog with all 100 helmets illustrated in vibrant detail (I have one and it's incredible), visit the Freeman's website.
Share and Enjoy
Though we tend to think of "art" as a painting, a drawing or a sculpture, yet culinary experts and amateurs alike would leap to add their creative talents to the pot, and rightly so. After seeing a post on Great White Snark about "mind-blowing Star Wars cupcakes," I decided to do my own search for some of the best (and worst) Star Wars cake creations out there. Here's what I found.
Oh, and I haven't separated the good from the bad. I'll let you be the judge!
Of course I need to start with the mind-blowing cupcake creation mentioned above: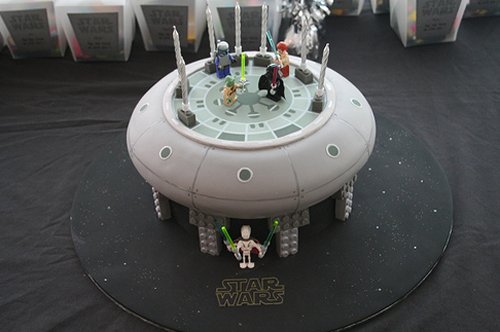 Check out the making of the Max Reebo cake above.
Share and Enjoy
The Fempire Strikes Back comes back to Hollywood (Music Box) on July 10, 2010. This is not a show to miss!
One of the hottest burlesque troupes in LA—The Devil's Playground—brought sexy and sci-fi together in one amazing show at the Music Box in Hollywood: Star Wars Burlesque!
Each custom-tailored performance was an experience for any fan of the original trilogy (not to mention hot women), with cast members dressed as characters from Chewbacca to Boba Fett to (you guessed it) slave Princess Leia.
Watch the highlights right here! Photos of many of the sci-fi clad vixens can be found below.
http://www.youtube.com/watch?v=ezrvxYmSGNs
Or check out these hot photos of the sci-fi clad vixens.
Olivia Bellafontaine as Princess Leia (photo by Josh Reiss)
| | |
| --- | --- |
| Charlotte LaBelle as Darth Vader (photo by Josh Reiss) | Audrey DeLuxe as Boba Fett (photo by Josh Reiss) |
| Lucy Fur as C-3PO & Sin Fisted as R2-D2 (photo by Josh Reiss) | Sin Fisted as R2-D2 (photo by Josh Reiss) |
| Scarlet O'Gasm as Jabba the Hutt (photo by Josh Reiss) | Scarlet O'Gasm as Jabba the Hutt (photo by Josh Reiss) |
| Daisy Meadows as Chewbacca (photo by Josh Reiss) | Courtney Cruz as the Stormtrooper (photo by Josh Reiss) |
References
Check out LA Weekly for complete coverage of the event.
Featured artists
Share and Enjoy
While perusing the Venice Beach boardwalk, I stumbled upon an incredible metal sculpture of an old school Predator at Titanic Boutique. After snagging a photo of one of my favorite alien life forms with my camera, I checked out the huge collection of metal art which included fan favorites such as the Terminator, Optimus Prime, Boba Fett and Darth Vader—you can see them all below.
These pieces are highly detailed, well-made, and quite a unique addition to Venice, in comparison to the multitude of overly touristy hat, clothing, and jewelry beach-side shops donning the strip. The small sculptures will run you around $95, and I didn't dare ask about the large ones!
Titanic is run by Antonio and Karina Rendon. I had the pleasure of speaking with Antonio, who was very nice and informative, and allowed me to take as many pictures as I wanted. Thanks guys!
Titanic Boutique :: 405 Ocean Front Walk, Venice Beach, CA 90291 :: (310) 392-9254
Share and Enjoy
Han Solo, Chewie and Lando reunite for the 30th anniversary charity screening of "The Empire Strikes Back" on May 21, 2010. Read more about the yearlong Lucasfilm yearlong charity campaign called "The Empire Gives Back" at LA Times.
Check out some of the photos of the event, courtesy of Monsters & Critics.
Share and Enjoy
Subscribe to Outta this world
Categories
Archives