Browsing articles in "Science Fiction"
Though we tend to think of "art" as a painting, a drawing or a sculpture, yet culinary experts and amateurs alike would leap to add their creative talents to the pot, and rightly so. After seeing a post on Great White Snark about "mind-blowing Star Wars cupcakes," I decided to do my own search for some of the best (and worst) Star Wars cake creations out there. Here's what I found.
Oh, and I haven't separated the good from the bad. I'll let you be the judge!
Of course I need to start with the mind-blowing cupcake creation mentioned above: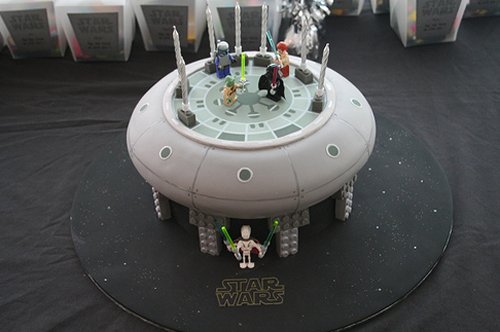 Check out the making of the Max Reebo cake above.
Share and Enjoy
A lunar eclipse occurs when the Sun, Earth and Moon are in exact alignment with one another, where the Sun's rays are blocked from shining upon the moon by the Earth, which stands between the two. There is always a full moon during a lunar eclipse. A solar eclipse, from Earth, can be seen as a bright ray of fire as the Moon appears to cover the Sun. Now both of these astronomical events will be occurring within mere weeks of another (lunar on June 26, 2010 and solar on July 11, 2010), creating a huge shift in the electro-magnetic energy field that effects every Earthling.
Fantasy and Science Fiction artists have been enamored by the stars, planets, the Moon and the Sun for ages, creating such incredible depictions of the universe and faraway worlds that inspire even the most reality-driven man to use his imagination.
In honor of these symbolic elements that remind us just how small we are in this universe, here are some of my favorite pieces of art.
Cold Fire by Inga Nielsen
Wheel of Fire by Inga Nielsen
Space Scene by xcine
Age of Discovery by Josef Bartoň
Blue Moon by David Fuhrer
Fire in the Land of Shadows by Inga Nielsen
Broken Planet by Jordan
Another World Sunset by Gary Jamroz
Backdrop of Megamind by Patrick Jensen
Moment in space XCIV by Tuomas Pekkarinen
Eclipse by Sami Mattila
Obsequium by taenaron
Lux Aeterna by taenaron
Space by Mariusz Karasiewicz
The Beginning by Mariusz Karasiewicz
The Untitled Scenes CLII by Tuomas Pekkarinen
Space Lunar by Mariusz Karasiewicz
Just Space by Josef Bartoň
Paramount by Josef Bartoň
Landscape 3 by AnastasyaCemetery
Share and Enjoy
While perusing the Venice Beach boardwalk, I stumbled upon an incredible metal sculpture of an old school Predator at Titanic Boutique. After snagging a photo of one of my favorite alien life forms with my camera, I checked out the huge collection of metal art which included fan favorites such as the Terminator, Optimus Prime, Boba Fett and Darth Vader—you can see them all below.
These pieces are highly detailed, well-made, and quite a unique addition to Venice, in comparison to the multitude of overly touristy hat, clothing, and jewelry beach-side shops donning the strip. The small sculptures will run you around $95, and I didn't dare ask about the large ones!
Titanic is run by Antonio and Karina Rendon. I had the pleasure of speaking with Antonio, who was very nice and informative, and allowed me to take as many pictures as I wanted. Thanks guys!
Titanic Boutique :: 405 Ocean Front Walk, Venice Beach, CA 90291 :: (310) 392-9254
Share and Enjoy
Han Solo, Chewie and Lando reunite for the 30th anniversary charity screening of "The Empire Strikes Back" on May 21, 2010. Read more about the yearlong Lucasfilm yearlong charity campaign called "The Empire Gives Back" at LA Times.
Check out some of the photos of the event, courtesy of Monsters & Critics.
Share and Enjoy
First of all, like all fans, I want to start off with an official R.I.P. Heroes. I fell in love with the show in season 1, and though it took a few interesting twists and turns, I've remained a fan ever since.
Though countless blogs and magazines continue to speculate whether or not NBC will wrap up the Heroes plot via a two-hour film, I had the opportunity to ask one cast member (last night) who said, "there isn't going to be a movie." He notes that NBC ditched the mere thought of a season 5 because, well, it cost too much money to produce the show. Why would they spend money on a film?
Entertainment Weekly gives us an exclusive interview with Greg Grunberg (a.k.a. Matt Parkman) who still has high hopes that the fans will get their wish of a proper ending.
I guess that means… we wait!
Share and Enjoy
In 1977, the year of my birth, one of the greatest film series known to Sci-fi fans across the planet was born: Star Wars. Here's a tribute to the characters, creatures, and far away worlds that inspired us all… and to the man who started this whole insanity: George Lucas!
Incredible poster art
View more poster art by the Hildebrandt brothers!
View more artwork by Drew Struzan!
Star Wars videos
The Fastest and Funniest LEGO Star Wars story ever told
Star Wars The Empire Strikes Back (Original Trailer)
http://www.youtube.com/watch?v=R6bvuhPyq8Q
Ceci n'est pas Chewbacca
Starring my good pal Eric Toms!
Spin-offs
And last but not least, who can forget some of the best spin-off shows and films based on our beloved series.
Spaceballs
Ode to the the funniest moments of one of my favorite films!
Seth MacFarlane's Blue Harvest
The hour-long premiere to the sixth season of the FOX series Family Guy.
Happy Birthday George! May 14th, 1944.
Share and Enjoy
On a daily basis, I hear my friends talk about what car they'd love to drive. A BMW this or that. I don't know about you, but there's another form of transportation I'd kill to take to work every day: a spaceship!

In lieu of fans everywhere that agree, here's a look at some of the coolest, creepiest, and funniest spaceships to ever to grace TV and film.
U.S.S. Enterprise (Star Trek)
Check out more panoramic views of the new bridge on Sci Fi Scoop.

If you're one of those people that loves a behind the scenes look at the architecture of such a ship, check out the blueprints for almost every Star Trek ship to date!
The Galactica (Battlestar Galactica)



Here's an interesting article and breakdown of these first two ships: Starship Enterprise vs. Battlestar Galactica: Who would win?
Cylon Raider (Battlestar Galactica)
Death Star (Star Wars)



Though technically a space station, this moon-shaped creation needs to be on the list!
The Millennium Falcon (Star Wars)



The Millennium Falcon
The Tardis (Dr. Who)
Winnebago Eagle V (Spaceballs)
Borg Cube (Star Trek)
Shadow Vessel (Babylon 5)
This one is for those of you who love spiders.
Serenity (Firefly)
The coolest part about this ship is that, when it's taking off, the lighted back end makes it look like (you guessed it) a firefly!
The Mothership (Close Encounters of the Third Kind)
Stargate Atlantis
Though the exterior is also cool, it's the gate room that makes the ships in any Stargate series unique!
Aries 1B Earth-Moon Shuttle (2001: A Space Odyssey)
How to make a spaceship
For anyone wondering how you can make your own spaceship at home, the Browncoats show you how to build a spaceship on a budget.
Featured artists
Share and Enjoy
Sci-fi fans across the planet are eagerly awaiting the arrival of episode 5 of the remake V (short for visitors) that will air on ABC tonight. If you haven't seen the show, it's a fine new addition to the list of TV series out there with aliens masked in human bodies and a plot to take over the world. You know, the usual.
Watch the trailer
http://www.youtube.com/watch?v=WnNjRaBj3zs
More on V
Check out full episodes on TV.com!
View photos of the show and cast on IMDB.
Share and Enjoy
What's got incredibly hot chicks dressed as your favorite sci-fi and fantasy characters, a room full of geeks, and is hosted by yours truly? The new Geek Pajama Party web series!
Tune in for the funniest, sexiest, craziest show in the galaxy as your gorgeous host Lisa celebrates the 18th birthday of DAKOTA FANNING with the Geeks! Segment 2 of this ASTONISHING episode includes "SPOILERS," featuring secrets from this summer's upcoming blockbusters, "LANDO CALRISSIAN'S GUIDE TO THE FEMALE ORGASM," "WHAT'S IN LISA'S WORMHOLE," and DAKOTA FANNING, live in person, to celebrate her birthday with the Geeks!
Part 1:

Part 2:

More fun!
http://www.geekpajamaparty.com
http://www.jonandal.com
http://www.urbanarchipelagofilms.com
Share and Enjoy
I was perusing YouTube for some fascinating sci-fi films, shorts, animations, and whatever else I could find. Here are a few that I thought kicked ass!
Space Doodles
This first video was created by my own production company PUCKER as part of our first season of comedic (and often raunchy) shorts. Yes, that's me in purple! More at: PUCKER.
http://www.youtube.com/watch?v=T5qOblDqz1g
Aliens Vs. Coffee machine
A really well done sci-fi a nimation by Henrik Bjerregaard Clausen. More at: aniBOOM.
Leap
A science-fiction short film about a young man who accidentally discovers that he can travel between two parallel worlds. You can check out the Visual Effects Breakdown in this video.
Share and Enjoy
Subscribe to Outta this world
Categories
Archives