Browsing articles from "June, 2010"
Though we tend to think of "art" as a painting, a drawing or a sculpture, yet culinary experts and amateurs alike would leap to add their creative talents to the pot, and rightly so. After seeing a post on Great White Snark about "mind-blowing Star Wars cupcakes," I decided to do my own search for some of the best (and worst) Star Wars cake creations out there. Here's what I found.
Oh, and I haven't separated the good from the bad. I'll let you be the judge!
Of course I need to start with the mind-blowing cupcake creation mentioned above: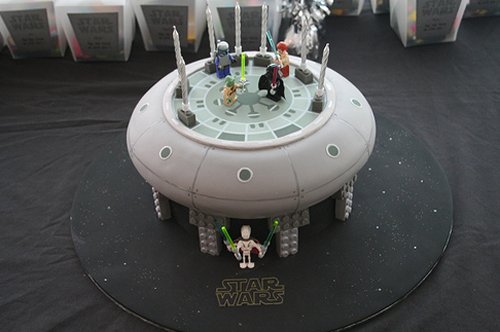 Check out the making of the Max Reebo cake above.
Share and Enjoy
The Last Airbender will release to the public a mere few days from now when mother nature's powerful elements—Air, Water, Earth and Fire—will be handed to us in a way we've never seen. Creating a made up world full of CG elements wasn't easy for M. Night Shyamalan and Industrial Light and Magic; yet regardless of whether the story unfolds as we expect, the special effects will certainly give us enough eye candy to gawk at (and talk about) for quite some time.
The Last Airbender TV Spot
Here are some of the the latest production stills released in the final press kit from Paramount Pictures.
Fire
"Visual effects supervisor Pablo Helman recounts that he went outside and lit some stuff on fire, so he would have a bunch of studies of real fire to show to director M. Night Shyamalan. But when Helman showed the footage of actual fire to Shyamalan, his response was, 'You know what? That fire looks CG.' Even real fire looked fake." ~ Charlie Jane Anders (io9)
Water
The Industrial Light & Magic crew used a NASA video of water in zero gravity as reference for how bending water could look.
Air
"The ILM team decided that what you want to see is what the air is pulling up—whether it's dust or snow, depending on what environment Aang is in. They used the same algorithm for air that they'd used for fire, except that they didn't render it as fire." ~Charlie Jane Anders (io9)
Facial motion capture
"There are actually three Aangs in the movie. There's Ringer, who's an accomplished martial artist and actually plays the character most of the time. There's his stunt double Jade, a girl who's roughly the same size and shape as Ringer… And then there's a CG rendering of Aang, who's doing some of the crazy acrobatics and ultra-dangerous stunts that no actor or stunt-person can do. To put Ringer's face onto the other Aangs, Harrington captured a closeup of Ringer scowling and grimacing, with a billion dots to capture every aspect of the performance." ~Charlie Jane Anders (io9)

Creatures
For Appa, the six-legged flying bison, "The cool thing about Appa is that I kind of thought of him as a combination of the Millennium Falcon and Chewbacca…. We looked at polar bears, and we thought of the front two legs as arms that are offset slightly, and the back legs are legs… We looked at polar bears, bison [and] elephants to get kind of the physics and the weight right. We also looked at beavers. There are scenes where he actually swims and kind of uses his beaver tail in the water." ~ Tim Harrington (ILM Animation Supervisor)
"Aang has a pet flying lemur named Momo. Harrington spent a lot of time figuring out how to get the light to scatter through Momo's wing membrane. The mechanics of how Momo flies were based on the giant fruit bat, which Harrington figured was roughly the same weight." ~Charlie Jane Anders (io9)
Environments
"In general, the team took a 'less is more' approach to layering in computer-generated details to all the scenes, aiming for the most photorealistic images they could create. The locations the film visits are based around the styles of the different tribes." ~Charlie Jane Anders (io9)
Behind-The-Scenes footage
From The Southern Water Tribe Set
http://www.youtube.com/watch?v=8FC0c1ty9-w
From The Northern Water Tribe Set
http://www.youtube.com/watch?v=MYi_T2vIBRU
"I'm not the most techie guy in the world, so if I can keep coming from character, I can keep it grounded. When we saw the cartoon, the mythology was so well thought out and had Buddhism, martial arts and CGI, but the kind that is character-based and that's coming from emotions. So I could tell ILM [Industrial Light & Magic]…and speak in terms of character point of view and be effective in that way." ~M. Night Shyamalan
You may also enjoy
The Creatures of "The Last Airbender" – An Interview with ILM Animation Supervisor Tim Harrington
Share and Enjoy
Reports are flooding in that Peter Jackson will indeed direct The Hobbit in a two-movie deal, and I know I'm not the only Lord of the Rings fan who is jumping for joy at the news. Yet before we see this world once more through Jackson's eyes, let's take a peek at what artists have been doing for years: creating incredible art depicting Tolkien's beloved world and characters.
Share and Enjoy
The Fempire Strikes Back comes back to Hollywood (Music Box) on July 10, 2010. This is not a show to miss!
One of the hottest burlesque troupes in LA—The Devil's Playground—brought sexy and sci-fi together in one amazing show at the Music Box in Hollywood: Star Wars Burlesque!
Each custom-tailored performance was an experience for any fan of the original trilogy (not to mention hot women), with cast members dressed as characters from Chewbacca to Boba Fett to (you guessed it) slave Princess Leia.
Watch the highlights right here! Photos of many of the sci-fi clad vixens can be found below.
http://www.youtube.com/watch?v=ezrvxYmSGNs
Or check out these hot photos of the sci-fi clad vixens.
Olivia Bellafontaine as Princess Leia (photo by Josh Reiss)
| | |
| --- | --- |
| Charlotte LaBelle as Darth Vader (photo by Josh Reiss) | Audrey DeLuxe as Boba Fett (photo by Josh Reiss) |
| Lucy Fur as C-3PO & Sin Fisted as R2-D2 (photo by Josh Reiss) | Sin Fisted as R2-D2 (photo by Josh Reiss) |
| Scarlet O'Gasm as Jabba the Hutt (photo by Josh Reiss) | Scarlet O'Gasm as Jabba the Hutt (photo by Josh Reiss) |
| Daisy Meadows as Chewbacca (photo by Josh Reiss) | Courtney Cruz as the Stormtrooper (photo by Josh Reiss) |
References
Check out LA Weekly for complete coverage of the event.
Featured artists
Share and Enjoy
A lunar eclipse occurs when the Sun, Earth and Moon are in exact alignment with one another, where the Sun's rays are blocked from shining upon the moon by the Earth, which stands between the two. There is always a full moon during a lunar eclipse. A solar eclipse, from Earth, can be seen as a bright ray of fire as the Moon appears to cover the Sun. Now both of these astronomical events will be occurring within mere weeks of another (lunar on June 26, 2010 and solar on July 11, 2010), creating a huge shift in the electro-magnetic energy field that effects every Earthling.
Fantasy and Science Fiction artists have been enamored by the stars, planets, the Moon and the Sun for ages, creating such incredible depictions of the universe and faraway worlds that inspire even the most reality-driven man to use his imagination.
In honor of these symbolic elements that remind us just how small we are in this universe, here are some of my favorite pieces of art.
Cold Fire by Inga Nielsen
Wheel of Fire by Inga Nielsen
Space Scene by xcine
Age of Discovery by Josef Bartoň
Blue Moon by David Fuhrer
Fire in the Land of Shadows by Inga Nielsen
Broken Planet by Jordan
Another World Sunset by Gary Jamroz
Backdrop of Megamind by Patrick Jensen
Moment in space XCIV by Tuomas Pekkarinen
Eclipse by Sami Mattila
Obsequium by taenaron
Lux Aeterna by taenaron
Space by Mariusz Karasiewicz
The Beginning by Mariusz Karasiewicz
The Untitled Scenes CLII by Tuomas Pekkarinen
Space Lunar by Mariusz Karasiewicz
Just Space by Josef Bartoň
Paramount by Josef Bartoň
Landscape 3 by AnastasyaCemetery
Share and Enjoy
Mark Cline's Foamhenge (and my mom holding down the fort)
I just returned from a visit back east, and one of our pit stops was a family reunion in Natural Bridge, VA. I assumed, like most small towns in Virginia, that we'd only find historical sights reminiscent of a colonial-inspired era. What I didn't expect to see was a life-size replica of Stonehenge made from foam!
Mark Cline, artist and native of Virginia, produces foam and fiberglass pieces for attractions all over the state, including Foamhenge, Enchanted Castle Studios and Professor Cline's Haunted Monster Museum & Dark Maze, a haunted mansion tucked back in the woods, complete with monsters and sci-fi inspired characters including a half Frankenstein half chicken.
Here are some photos of his work
Share and Enjoy
Subscribe to Outta this world
Categories
Archives